Toyota pickup, aluminum, deer hide,
beads, sinew, fabric, enamel paint, acrylic
paint, and sound piece: ipod & stereo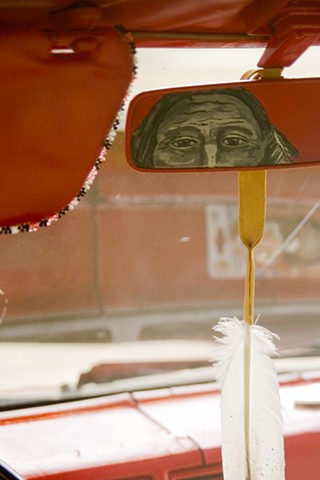 Bachelor of Fine Arts at Marylhurst University and Master of Fine Arts in Contemporary Studio Practice at Portland State University.
Rochelle is a member of the Northwestern Band of Shoshone Nation. She is very involved in the Native American community having spent the last ten years as Coordinator of the Native American Education Program in Vancouver, WA. She currently is an Adjunct Professor of Art at Portland Community College, Marylhurst University and affiliated faculty with the Indigenous Nations Studies Program at Portland State University having taught a course on Indigenous Critique of Native American Art. Rochelle served as the coordinator of the Northwest Indian Story Teller Program with the Wisdom of the Elders, Inc. Rochelle maintains an active studio practice, with over 20 solo, competitive group and invitational exhibitions and portfolio exchanges dealing with Indigenous inappropriate appropriations.